Preschoolers are my favorite age to teach. I work in early education after all.
When it was time to work with my own children it was so much fun
showing them what I know. This year I start with my youngest daughter.
She will be 4 years old in August. I thought it would be fun to review
Home Grown Preschoolers. I am always looking for new resources and
for while I was working with older elementary. I wanted a refresher.
I was given in exchange for my review through the
Schoolhouse Review Crew
Home Grown Preschool
a value of $29.95 from
Gryphon House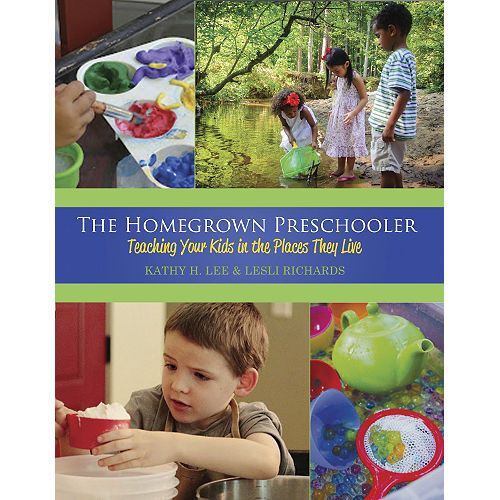 I was so happy with the way this book is set up. It reminds me of sitting
reading a blog or talking to a close friend. The graphics inside are
glossy color and it gives you the warm feeling of little faces looking at you.
The Quote on the front cover says it all....

"Teaching your Kids in the Places they Live"
I can tell you more times that not many parents miss this point. They miss
working and playing in the day to day with their children. The kids lack
skills that they should have already mastered because parents do these
things for their children. This book was so refreshing to see a hands on
approach to parenting and being at home with a preschooler. It is our
job as parents to make sure our kids are exposed to many different resources
and activities. I wish every preschool parent would have this book. I also
gained some great reminders and some fun teaching ideas I had long since
forgotten. We tried a few of them and will be using many more of them
thought the course of our preschool this coming fall.


Usually when I am wanting to know what all a book is about I look at
the table of contents to give me an overview . Here is what is discussed.

Introduction: Our journey To Growing our children at Home
(This contains the writers stories.)

Chapter 1- Homeschooling- Harvesting A bountiful life
(Learn all about the great attributes of homeschooling if you are new to it)

Chapter 2- Learning through Play
(I agree whole heartedly with the play based approach. Here you will see
how play helps a child developmentally)


Chapter 3- Sowing The Seeds- Preschool Learning
(Discusses the different skills)


Chapter 4 Setting the Stage
(Talks about your learning environment in your home)


I sat and thought about this one a bit. I realized I had created this
learning environment naturally in our home. We have a little area
in our living room that houses puzzles, and manipulative toys.
In that living space we also have a tactile area set up that often changes.
In our dining room where we have our school lessons, my little one has
a basket with activity bags and a reading area with books.
In our summer house area we have set up a kitchen play area with
Kitchen food , table, rocking chairs and dolls. We also have a game
table out there so the kids have a place to play games and do big puzzles.
In Sweet Peas room she has another reading space and play area. In our
outdoor space we have slides, sandboxes, a outside toy box and bikes. I was
happy to realize we had these place for our children and didn't even have
to work hard to place them. I guess I naturally created these place for the
kids. I could worry about the style of our home and these things hurting our
space. However , I do not. They are only here for a little while, I want this
to be their home and a place of learning. Something they will always
remember . At least that is my hope.


Chapter 5- Home Life = Learning - Slow down and Teach

This Chapter resonated with me. I know this but with all the teens
in our house often my preschooler gets left out. She wants to help so
badly but much of the time the kids just do it for her. Not a good thing
I promise. We have had recent melt downs when it was time to clean up
just because she is used to them doing for her. I have put a stop to that
and given my little Sweet Pea more to do. She is loving it.


This is her folding wash cloths. She also will help fold hand
towels. Some of the bigger clothes she can't quite fold yet. She
is great at sorting sock and undies. 


The other idea I gleaned was to give her some water and vinegar in a
bottle to clean. Hey I'm all for helpers. I don't know why I hadn't
thought of that. I always worried about the cleaners being to strong
for her. This concoction is just right. 
Being a kitchen helper was also something I have not done with
her yet. I have all these teens to cook with in the kitchen . One day
they were all away so I grabbed her and had her help me husk corn
and wash it. She was so proud of this She tells everyone I helped
mommy make corn. I was impressed when she told her grandparents
how it's done. We will be doing more cooking as our year goes as well. 
Chapter 6- Who has Time for This?


Yes I would be one to probably say this too. 5 kids, taking classes,
working part time, volunteering at church, cooking, cleaning and
running kids to activities.... but its something that is well worth
making time for. I only have her once as a preschooler and the time
is rather short. Take it from someone with older kids it all happens
so fast and before you know it that times is gone. Sweet pea will
more than likely be my last preschooler. I want to enjoy each moment.




Chapter 7 -Organizing it all




This is something I struggled with till this year. Where do you put all the
supplies you need when you have kids of so many varying ages. I have
tubs of preschool material up in the attic from when I taught. Most often
I work from these tubs. I do have activity bags in a chest at the end of
my bed. I swap them out from time to time with the ones in the attic so
that for a month I am set with storage. This has worked best for us. You
want some things your preschooler hasn't seen yet so that it keeps their
interests. I am sure there are many other ways but his is our way.




Chapter 8- Days and Season Don't fit in the Box




This chapter discusses the age and the stages. Right now Sweet pea
Is going through the has to see every bathroom in every place we go
stage. Sometimes multiple times. I know this is a stage and we won't
in months to come be going quite so often. I just sigh a sigh and take her
one more time. I allot for that time when I go shopping so I'm not late
for the next thing. Ages and stages. When you have a preschooler you
go at a preschool pace. There is no other way without the melt downs.
The other week we were at the pool. They have a huge sandbox there.
Sweet pea had been building. I went and warned her we were going.
Then when it was time I left her know it was time to go. She didn't
want to go but I talked to her as she played and talked to her about
her hill and told her how daddy needed us to come home to make
his dinner so we should really go. It took a few minutes.. she patted
her hill and said ok mommy and off we went. Had I ripped her from
the sandbox we would have had a different result.



Chapter 9 Special Circumstances
(Talks about special needs, adoption, learning delays and
the challenge child)



Activities

The back of the book has many pages of activities you can do with
your child. My daughter and I played the freeze game and we had
daddy make us a light table. We even took some time and mixed
some shaving cream colors. This was her favorite activity so far.
In the very back of the book you will find an Activity checklist , a
getting started checklist, book resources, dvd's and websites.
You will also find the instructions to make a Plexiglas Easel, light
table, and sensory/sand water table. We made a light table
but daddy did his own thing when creating it. 
All through the book you will find different recipes for those
busy days as a preschool mom. 

If you have a preschooler you might want to check out this book it
is very informative. If you want to read more reviews first click the
graphic below. There are two reviews in this link so look for the
preschool post.





Warm Blessings,

Nikki