Many, many moons ago... I was in school (wink) and I admit to
absolutely hating history. I had a teacher one year who read directly
from the text book the entire class time. He also would do a review at
the end of each chapter asking us questions. Those exact questions
were on the test. It was so easy and so frustrating too. I had another
who wrote massive amounts of notes on the white board and you had
to copy it word for word into your notebook. This took the entire class
time sparing maybe 15 minutes for discussion. Being my kids teacher
I swore my kids would never endure that for their history lessons.
We have been very hands on with our history assignments and I
have come to actually like history. No in fact I love teaching it.
So today I 'd like to present to you....
I was given by the
Schoolhouse Review Crew
in exchange for my
review the
America the Beautiful Curriculum Package
- $99. 95
The curriculum package includes two America the Beautiful text
books, Maps workbook, Timeline workbook, American the Beautiful
answer key and We the People (Words from the Makers of American
history)
America the Beautiful Student Workbook
- $11.95
America the Beautiful Lesson Review
- $9.95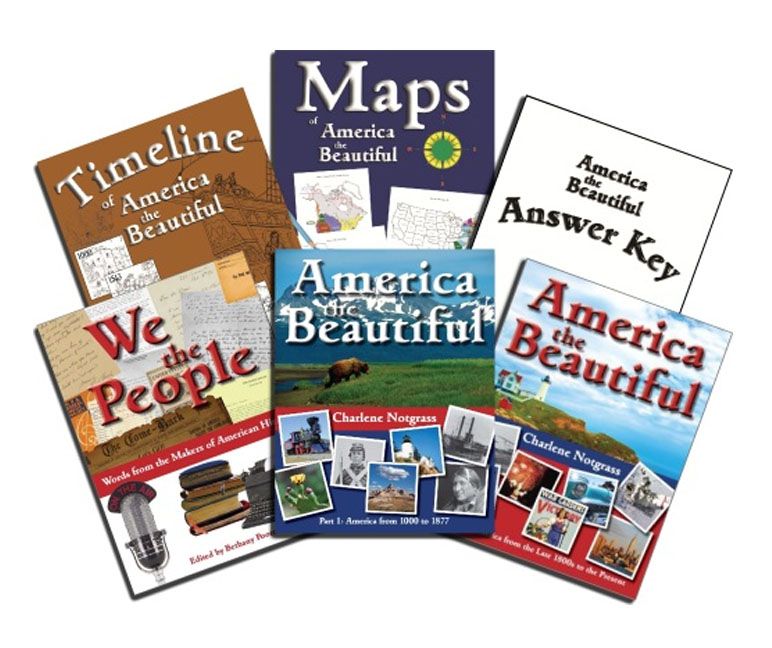 Each unit in the America the Beautiful books contain a different time
period in American History. You will be taken from before 1942 to
the 21st century. Book one begins with the discovery of America
by the Europeans to the Civil war. This book has 75 lessons that
is created to be completed in one semester. Book 2 begins with the
expansion of the wild west and goes to modern times. This book
also is to be completed in one Semester. You could complete the
curriculum in a year or stretch it out through 2 . Each book has
15 units in them combined giving you 30 units. If a student reads
one lesson a day for 5 days a week they will complete the unit
in the one year period. Most lessons take 45 minutes to one
hour to complete. I have a slower reader so it sometimes took a
little longer and spread out over the day a bit.



Introduction
- Each unit has an introduction to the unit. This provides
your child with an overview of the unit , a list of the lessons, and
a list of additional books. America the Beautiful has an additional
package you can purchase that has all of the extra books you
will be reading.
America the Beautiful Literature Package
- $ 59. 95
This package includes:
The Sign of the Beaver
by Elizabeth George Speare (Units 4-5)
Amos Fortune, Free Man
by Elizabeth Yates (Units 6-7)
Brady
by Jean Fritz (Units 9-10)
Bound for Oregon
by Jean Van Leeuwen ( Units 12-13)
Across Five Aprils
by Irene Hunt (Units 14-15)
Little Town on the Prairie
by Laura Ingalls Wilder (Unit 16-17)
All-of-a - Kind Family
by Sydney Taylor (Unit 19-20)
Blue Willow
by Doris Gates (Unit 21-22)
Homer Price
by Robert McCloskey (Unit 25)
Katy
by Mary Evelyn Notgrass (Unit 29-30) 
Each lesson then has 5 daily lessons. One to be read each day as
I talked about before above. The pictures in the book are just
beautiful. My photos don't do them justice. Some of the photos
are historical in value and worth talking about and looking at as you
go through the lessons. The lessons are broken in sections for better
comprehension ,those are Our American History, God's wonders, an
American Landmark, American Biography and Daily life. 

Our American Story- Major events of the time period

God's Wonders- amazing Creation God placed in America

An American Landmark- Important site in American History

An American Biography- Information about a person in that time period

Daily life- How people worked and lived in that period 

At the end of each section is 4-6 Activities pertaining to the lesson.
Hands on activities to enhance your experience with the unit such
as arts and crafts, writing assignments, vocabulary, biblical assignments,
Assignments in maps book, timeline book, lesson review book, a
family activity and student workbook. 
Supplies needed: Children will need pencils, colored pencils, notebook
paper, and a three ring binder. There are additional supplies for the family
activities. These materials are listed on the family activity instruction page.

Ages- This curriculum is created for children in fifth through 8th grade.

Timeline book- Your student will write one timeline after most lessons.
Children will have an overview of the history in chronological order. 

We the People, Words from American History- This is a collection
of original letters, poems, songs, stories and other writings in American
history. This was one of my favorite parts of the curriculum.
At the end of the lesson children are given a short assignment to read
from we the people. 

Maps- A book of drawn maps . Students look at maps while reading and
complete activities along with the unit.


Student Workbook- Children will compete one activity after
completing each lesson.

Review lessons- Children will complete a review after each lesson
from the review workbook
Family Activity- The family activities are another of my favorite.
Children end with projects that include art, crafts, recipes, games
and parties. 


How we used the curriculum -
We used the curriculum as encouraged in the lesson guide. I used
this with my 7th grader. He would read the lessons and complete activities
on his own. We would then choose a few activities to complete together
and the family activity. My younger children enjoyed some of the family
activities as well. We have used text book in the past and have enjoyed
using those so this was not a big change for us. I did really like the living
books included in with the lesson since usually I have to create my own
list. The curriculum is very through and would be a great asset to someone
who enjoys using a text book or box style curriculum where everything is
done for you.



If you would like to check out more reviews on the America the
Beautiful for the Drawing series click the graphic below. 




Warm Blessings,

Nikki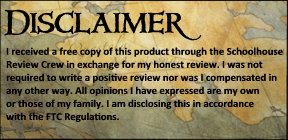 I