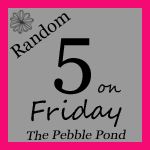 1. We had a big fourth of July Picnic at our house this week.
Pretty much all of my family attended. We went out and got new
sand so the little ones might stay busy. Spirit played in the sand all
morning. He perches his self right like this on the side for hours.
We also rigged up this umbrella on a flower hanger I had so that we
could block the sun from the sand area. It actually worked pretty well
and eventually the sun moved and the shade tree began to work.

2. We ended up having the picnic mostly in our driveway since that is where
the shade was standing the most. Below is a picture of Superboy
relaxing and enjoying his rabbit.
3. We also washed up some of the kids bikes . They were sort of
icky from some recent storms. Princess played for hours in her car.
However I think she is about outgrowing it. Probably will get rid
of it after this summer.
4. This is one of my grand sons. This is the middle boy. He found
my pinwheel flower that sticks in my flower bed and he played with this
for hours. Watching it spin and giggling as it did. He eventually figured out
that it comes out of the ground and this is him with it.
5. Last this is my family. My dad and all of my kids. My step children
are missing only because those grand babies keep them pretty busy.


Hope you had a happy 4th of July.


Warm Blessings,

Nikki