I was given for review from the
School House Review Crew
Life Principles of the Happiest and Most Successful Among Us 25 TRUTHS
By
Ed Douglas Publications
Retail - $15.50 Paper Back
Recommended for- Grades 6-12 and Adult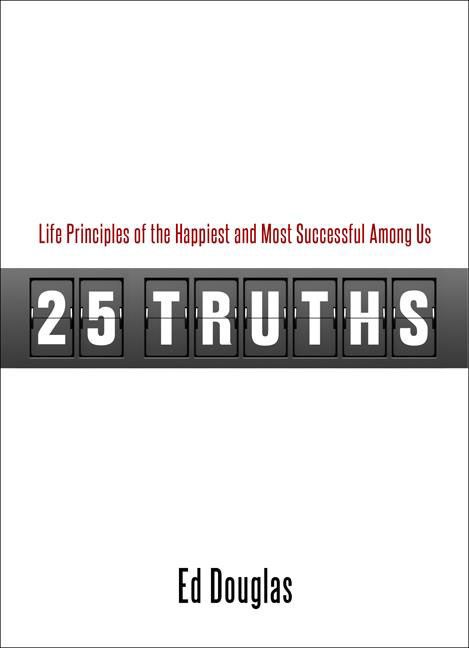 About the Author:
Ed Douglas is a certified financial planner and
is very successful in his chosen field. He has been appointed by 3
governors in the state of Missouri and is very active with his time.
Mr. Douglas has a very impressive background and has lived life.
His advice seems to be valuable to those he meets, so he decided
to write the 25 Truths. He volunteered as a tennis (my boys play
tennis) coach and imparted his wisdom to the youth.
About the Book
- The 25 Truths is a small paper back filled with
valuable Character training for youth and adults. There are 25 Chapters,
each with a Truth Statement such as...
Don't Talk Negatively to Others
Watch What you Say, Do and Write
Be Slow to Judge
Take it one Step at a Time
Never Surrender
After each truth Mr. Douglas gives us a little background into
that truth using his own life experiences. Each truth is applied
to biblical Scripture. At the end of each chapter you are given
discussion questions so that you can talk out what you learned
and see how it will apply to your life. I loved that some of the
truths come out of my own mouth and I had never thought to pass
those on in this way.
How we used the 25 Truths-
I read 25 Truths through to make sure it would work with my children.
I realized that for my younger crowd I would have to paraphrase in
some ways. For my teenagers through it worked perfectly.
My son is going into the 7th grade this year but is a grade level
behind peers his age and my daughter is going into 11th. I would
suggest the book for 8th and up possibly 7th if you have a mature child.
Some topics of discussion weren't for younger children but again
could be phrased in a way that is acceptable to them. I have
not found Character training for teens before presented in such
a great way. Two of my favorite Truths were "Watch what you Say , Do
and Write" This one was also passed to me by my grandparents through
my parents. Great wisdom. This advice has not always been learned the
easy way but it is advice that I learned quickly as a youth. The other one
I say all the time to my children is "Take it one step at a time". Kids are
in such a hurry to get things done. They want the end result and
first, and fast. What I liked the most about these Truths is that
they are biblically based and that they are truths that may have
been passed through generations. It gave me the opportunity to talk
about my grandparents to our children ,sharing valuable advice
that I had long since forgotten.
If you have a teenager I'd recommend 25 Truths.
Warm Blessings,
Nikki