There is something my son has been wanting to be able to do and
I'm not sure he knows what all is involved in doing it. He is very artistic
and loves to create. He makes his own puppets and likes to draw. I don't
know where that will take him one day if anywhere. He has expressed
a want to learn how to create his own video games. Creating video
games isn't something I'd be able to teach him so what do I do? I have
been so lucky to be able to review from the
Schoolhouse Review Crew
Kid Coder Virtual Basic Series
from
Homeschool Programming
.
I think this will give him a taste of what it is like to be a
game programmer, which will be helpful in knowing if he likes it.
Here is what I was able to try out:
The Kid Coder Virtual Basic Series comes in two parts. For the first
semester your child will work through Windows Programming
and the second semester Game programming. Your child must first
complete the Windows Programming before they work on Game
programming or they may be considerably lost. Kid coder is designed
for kids from 6th -8th grade. My son is entering the 7th grade this fall.
Kid Coder is arranged so that the child can work on it independently.
The course uses virtual basic programming which is widely used
in today's business industry. No previous programming experience
is needed when you child begins this course. However they should have
some computer basics under their belts like using a mouse, saving
programs to a file and how then to retrieve them. To use kid Coder
you will need a Windows computer and a CD Rom. You can learn
about other
requirements
at the link provided.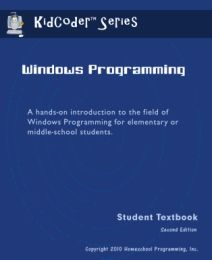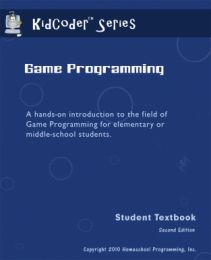 Below is a list of some of the things your child will learn with
the Kid Coder Series.
Windows Programming


$70 (Course only), $85 (Course and Video), $20 (Video Only)
Chapter 1- Introduction to Computers
Chapter 2- Get your Feet Wet
Chapter 3-
Exploring Visual Basic Programs
Chapter 4- Data Types and Variables
Chapter 5- Basic Flow Control
Chapter 6-
Getting User Input
Chapter 7- Working with Numbers
Chapter 8- Working with Strings
Chapter 9- Using the Debugger
Chapter 10 - Loops in Programs
Chapter 11- Functions
Chapter 12- Arrays and Structures
Chapter 13- Distributing Your Programs
Game Programming

$70 (Course only), $85 (Course and Video), $20 (Video Only)
Chapter 1- Getting Started
Chapter 2 -
Game Design
Chapter 3- Drawing on the Screen
Chapter 4- User Input
Chapter 5- Graphics in visual Basics
Chapter 6- Images and Animation
Chapter 7-
Sprites
Chapter 8- Game Logic
Chapter 9 - Sound
Chapter 10- Artificial Intelligence
Chapter 11- Saving your Games
Chapter 12 - Game Physics
Chapter 13- Drawing Text and Printing
Chapter 14- Final Project
You can also purchase the Kid Coder VB Year Pack for a
discounted price.
$120 (courses only), $145 (courses and Videos), $30 (videos Only)
About our Experience :




As I mentioned before I used this program with my 7th grader.
He is 13 years old and will be 14 in March. For the purpose of the
review we received a PDF of the Text and a download of the course.
To save on paper I loaded the text portion on my reader for him. Text
doesn't always format very well but this did ok for his purposes.
We completed a Chapter a week of the Windows Programming course.


The text was easy to follow. We had not trouble loading virtual
basic or following the directions to do so. What I liked about
Kid Coder was that my son was able to do it independently. I did
sit through the first few lessons to see if he would need help but
he didn't. So he was soon working on his own. I like the Characters
that are found through the book to help you as a guide. Below is the
Mouse character and all the things that he highlights throughout the
book and what each one means. This was helpful as he worked.

Again following the directions was easy for my son and
I wanted to share a Screen shot of the last Chapter we completed.
The Text shows you with visual what to do next. There are also
videos available if your child is more of a visual learner. Each lesson
is slightly different in length it depends on the topic. 

We are enjoying Kid Coder so far. Time will tell as we go through



Warm Blessings,

Nikki