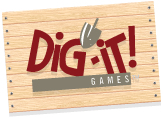 I was given for review from the
Schoolhouse Review Crew
the
Online game
Mayan Mysteries
from
Dig it Games
*note there is also an IPad app
Age Range 5-9
Price - $21.99
About Dig it Games- Dig it games was founded by a professional archaeologist
and a former middle school teacher. This is an educational game that promotes
independent learning. Dig it Games has received awards for their Games
But, Please allow me to tell you about it.


I used the Mayan Mysteries game with my 13 year old. He is entering
the 7th grade this year. My son struggles a little with reading and
comprehension however he loves to read comics and some of the
reading portion is presented in comic book text. The story takes you on
a mystery to figure out who is looting a Archaeological Dig site.


Child characters are used to help in the search along with an archaeologist
and police office. As you work through the reading and questions you
are given clues as to who is looting the site.

After each section there are challenge games and different fun
activities to go along with each section. You will visit Mayan sites,
analyze artifacts, decode glyphs, Explore the Mayan calendar,
Mayan math and learn about archeology.

We had no issues loading the game for use or in navigating the
contents throughout the game. We have a higher speed Internet
service and (wifi). I am using Window 8 and opened the game in
google chrome. 
Each section also has a reading from a "book" section ,
possibly 2 pages like below. Your student can learn more by clicking the
blue links if they don't know what a particular word means. When you
hit the end of your reading a Challenge will appear. You simply click the
challenge to play the questions portion. 

Your child is then given multiple choice questions to
see if they were able to comprehend each section. If they
get a question right they race toward a goal in a car away from
the looters car. If they get the question wrong the looters car moves
one space toward the finish line. You can see the little yellow car
at the bottom of the page on the trail. He had already met his goal
but still had a few questions left. 


Mayan Mysteries is not quite complete. There is a game
two but so far what we have experienced has been very enjoyable.
My son is a visual and auditory learner so this game was perfect
for his learning style. Dig it games is a fun way to explore History.
There is also a Roman times game which we may just have to use
with our world history lessons in the fall. This could be a excellent
addition to your typical school day lessons. We obviously enjoyed
Dig it games and I recommend them to my readers.

You may also want to connect with them on Facebook
and Twitter








Warm Blessings,

Nikki