I was given for review by the Schoolhouse Review Crew
Classical Conversions
PreScripts Cursive Sentences and Art Lessons - Medieval to Modern World History
with a value of $12.99. (For ages 7-12)
Classical Conversions was founded by Leigh Bortins and is based on the belief that
God is the center of the family. "To know God and to make Him known."
They are also based on the belief that Parents are their children's teacher.
Each parent knows their child better than anyone else and who better to teach
them than "you" the parent. You can learn more about
Classical Conversions
and their mission at the link provided. I know here in our small community
many moved to the Classical Conversions method of teaching and are
completely enjoying it. I admit to being curious , with this review I have
been able to take a peek into the Conversions world.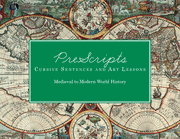 Teaching my son cursive handwriting is somewhat of a challenge. Writing
isn't at the top of his list of fun things to do but it is a necessary part of his
education. One thing my son does love to do is draw. In the fall we will be
working through World History. So when the opportunity arose to review
this cursive copywork book I was really excited about the match up. It had
all of the elements I could hope for... drawing, it matched our history,
we need to work on sentence structure and cursive writing.
Basically your child will work through the lessons. The book starts with
the ABC overview to remind the child of the letter format.

Then you will begin copying sentences about the medieval world. The book
is divided into four sets of six history notes. So when you are finished your child
will have completed four history notes on Charlemagne, The Magna Carta, The
Hundred Year War and other topics. For the best results it is suggested that
your child practice writing everyday. You can assign one page per day or
a few pages for an older child. My son could only handle one per day. If
you choose one per day you will have enough material for a school year.
You can also use the book as memory work and have your child memorize
the sentences. So it could be stretched out in a longer process if including
the memorization of the practice skills. The purpose of the book is to practice
good writing skills, copying and writing from a biblical worldview.
My son took to the book easily. Course writing isn't his favorite subject but
he was able to follow along easily. The idea is to trace over the words written
first and then to write out the words on their own. We choose to write on
our own writing paper. I wanted to sort of save the book for our studies
in the fall. So he will probably be redoing some of this work to go along
with his study. I feel it will enforce what he has already done. He did very
well in his writing. I was surprised that he enjoyed the style. One day I also
allowed him to write with Ink to give it a Calligraphy look and feel .
This artistic feel motivated him to work harder.
Not only do we have writing and copywork inside of this book but we
were also given some drawing lessons. It is suggested that you use an HB or 2B
pencil , a 2H for blending and a kneaded eraser. We had these on hand since my
son loves art. The Book teaches a little history and then how to draw the picture
shared. The one below uses circles for placement and then he erased the circle
guides to show his drawing. Sorry its so light. Some of the lessons used the
box method to draw. My son just likes to draw without it but he gave it a try.
He's very visual. The art lessons are a challenge and a little complex at times.
If you are not very good at drawing.
This one was of some architecture. I think he did pretty good copying
what he saw. Great fine motor work for getting better control in their
writing.
I enjoyed the book for my son , lessons it teaches and it's all in one place.
I can't wait to use this fully in the fall . My son still doesn't like to write but the
drawing between has helped that process. I recommend using this book with
your world history study.
Warm Blessings,
Nikki