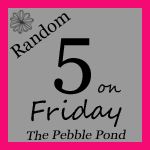 It's been a hard last two weeks. I am reminded that I have to trust in God
and lean on Him in times of strife. My heart is heavy but I will persevere.


1. I have had allergies all week long. The farmers are cutting their hay
My eyes are itching , I'm stuffed up and very tired all the time.


2. We have been taking park walks in conjunction with our library and
parks system. This day we went to an out of the way park with old mining caves.
They are blocked off with metal bars but it was neat to explore near and around
them. It was a rigorous walk and one we hope to try again soon. 
3. The week before I missed Random 5. We were enjoying our churches
VBS program . The kids had a wonderful time. Our theme this year
was Kingdom rock. I taught Pre K as usual
4. We finished up our school this week and are FREE for the summer!!
Not much going on though we are staying home because of finances.
Praying something gives for us soon.



5. We began our great clean out. With school things don't often
get cleaned up like they should so we are doing a major clean up project.
Throwing things away, giving things away and organizing. I want
that simple life plan.






Warm Blessings,

Nikki