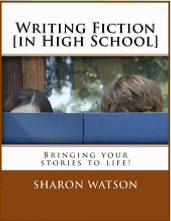 About the Course

Writing Fiction is a two semester English course. No prerequisites are
needed along with the course. There are 100 assignments and 13
chapters. It can be used as a year long course. The course is set up
for independent users but the book suggests forming a writing group .
Some of the assignments work well in small groups. You can share
discussions, listen to others work and share your own. Your
teen will learn other habits associated with the writing process such
as grammar skills, gathering ideas, proof marking, creating tension
and specifics of writing fiction. There are two tracts the teen can take
one is the regular course outline and the other is for students writing a
manuscript. You are taken through the entire process to becoming
Published! Take a peek at some of the Chapters of Study.
1. Facts about Fiction
2. Point of view
3. Fairy Tales
4.Characters and Organization
5. Conflict
6. Dialogue
7.Description
8. Words, Words, Words
9. Theme
10. Plot
11. Scenes
12. Beginnings and Endings
13. Getting published
You will also need various other books and sources to
go along with your curriculum. In the teacher guide on page 3 you
will find that list. For many of the Chapters you will need the book
read the description of this book at the link provided. You will also
use book sources like Edgar Allen Poe, The Bible, C.S. Lewis ,
and Ring Lardner among others. What really caught the attention of
my daughter was that you also will clips from various movies such as
The Princess Bride, WALL-E, Cast Away, The Island, The Fugitive,
network TV series Monk and a few others. My daughter is a big movie
girl. She likes to compare different story lines. The use of the movies
really appealed to her creative senses.
Our Thoughts


This book can be used as your sole curriculum. This is what we originally
had in mind but decided to then use it as an additional course for this
year. Perhaps we will finish it off in the fall as a full course of study. It
really is rich in content that it can be used as such. The course begins with
an opening to encourage teens about writing Fiction.
The lessons are set up for easy usage. Teens are presented the material in
a clear manor with expectations laid out for them. Then you are taken
through that lessons particular concept . In the first assignment its a small
Grammar lesson on Italics and Quotation Marks. In another lesson
you are taught how to hook your readers in your writing. Once the new
concept is learned you can begin discussion questions. This is where a
group would come in handy for a chance to dig deeper. Last you are
given your writing assignment for the day. This portion of the book
would take your child about 30 minutes or less to complete. The writing
portion may take longer depending on what they are working on writing.
What were some of my daughter's three Favorite Assignments so far??
Writing a letter to an Author- Her Author is deceased but we wrote one
anyway. It has encouraged her to try writing to a few others as well.
We have not received any responses from any of them yet but if we do
I will update this post so you can see what was returned.
Combing through headlines and stories from newspapers for Ideas-
She enjoys the whole Brainstorming process.
Writing your earliest Memory as a child- This one was turned out to be
an interesting writing piece for me. I was able to see a picture of her
childhood through her eyes.
Things We liked


We liked the creative assignments - we were able to dig into them
easily without much pause.
We Loved the use of movies to grab our attention and get our
minds working.
The teacher guide was very clear albeit small but still concise
and usable.
We honestly really loved this curriculum and can't think of a thing
we didn't like. This is something I hope to use with my other
children when they become high school students. I like the creativity
aspect of the writing process. It makes is less grueling for children
and fun for them to learn ]. Perhaps one day we will have a published
work in our family. Secretly I'd like to do the curriculum this summer
myself. Many of the assignments I wanted to try too.!!!
I also had the thought that perhaps the publisher at a later time could
open discussion options online for those of us who wouldn't be able to
have the option of a small group in our area. This would be valuable to
The student and a lot of fun.
Warm Blessings,
Nikki