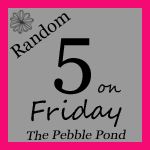 1. My daughter Heart just finished her Second year of College.
She has two more years to go. Yeah !! I'm so proud of her. 
2. This week we cleaned off our porch. It has been piled with boxes
and tools for about a year. Sad but true. The other week I /we got
our storage shed in place so now we were able to fill it. I was so
excited about the porch being clear. I have been so excited to sit out
there and relax. My mom brought over patio chairs and this little
angel to help us decorate. My daughter is having a candle party
soon so I might just have to get some hanging candles too. 
3. We also have a table for our porch but it didn't have chairs with it.
So I used our old kitchen chairs from our other house. I was just
going to sell them at yard sale but I think they worked perfectly.
Now I just need a table cloth that fits and we will be good. 


4. We are down to 19 days left of school. I am so ready. they are
so ready. Fun in the sun is on it's way.


5. I am interviewing this week for a nursery helper at our church. I am
excited to have help again and can't wait till they get started.
It has been rough trying to get volunteers . To night is my last
interview so it won't be long.


Warm Blessings,

Nikki