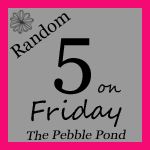 1. We have 27 days left in our Homeschool. We decided to create
an easy countdown on the refrigerator. I figured out my lesson
plans for the rest of the year and this is how many we have left to
go. We can hardly wait for the break. The kids have been working
so hard on some end of the year projects I set them up to complete.
2. Heart took a few spring photos at her college. They are beautiful.
I love that about her that she can find the beauty in things and takes
the time to capture them. Art is such a big part of our lives.
3. My 7 year old son loves to play with nutcrackers. I'm not sure why
but he does. He lines them up and makes them talk. My mom bought
these for him at a sale. I hope to find him more till he has a little box of
them. Its so cute to watch.
4. This is my son watching our new shed being delivered . It was a big
deal this week. I posted yesterday how it was placed. The kids were
so excited we barely got things done.
5. Superboy created another art project . This is his mosaic of a lion
he made in his recent art class. Obviously I 've confiscated it for now.
Warm Blessings,
Nikki