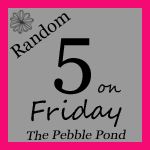 1. On Mother's day I was surprised when Dad invited family
to the house for Mother's day. He made food on the grill and
all I had to do was sit and enjoy the grandkids. Dad found time
to sit with Aunt Sweet pea (My little girl) and her nephew
(Grandson) . So funny to say that. 
2. Everything we do seems to be a big family event. On Wed. I think
it was Princess finally got her ears pierced. The whole family met
in the middle of the mall to watch and then we went for pizza.
I didn't get photos I was to nervous for her. 

3. Carl's dad came over too we always enjoy when he drops in
For dinner with us and this time Baby allowed him to hold him.
I really need nicknames for my grandkids for my blog. 
4. This is our new favorite past time.. Pool noodle wars.


5. Even through we aren't completely done with school yet for
the year I am already planning next year. I finished all our plans
till the end of the year and thought to get started on the next.
I love lesson planning. Have I mentioned that.


Warm Blessings,

Nikki