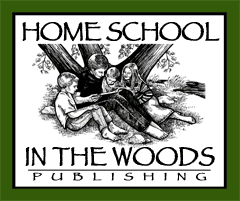 I was given for Review from
Home School In the Woods
the
Hands on -History Activity Pak - Composers
along with the
free mp3's. The value of the pack is $18.95 for the download
version (which I received) and $19.95 for the Cd. This product
is for Grades 3-8th.
I was given this opportunity through the
Schoolhouse Review Crew
.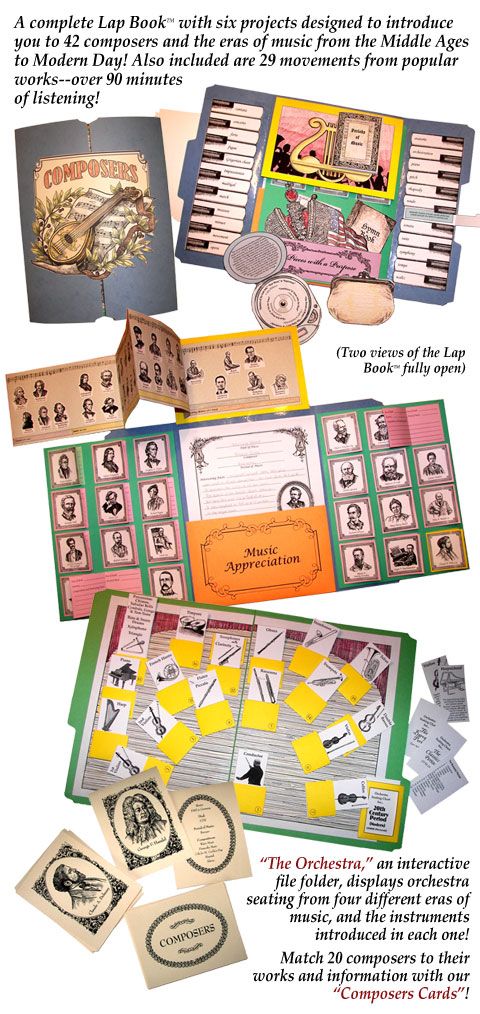 I was really excited about this review because I am a little familiar
with the Home School in the Woods products. A few years ago
we completed the American Revolution pack. My daughter used it along
with many of the hands on materials in a history fair and did well with it.




What is included with the pak?


The Orchestra File folder
Lap book and instructions
29 movements (mp3)
Composer cards




You can complete this Pak as is or you can add to it to
create a full course of study for your child's music course.
Included is a list of various materials, books, audio and
videos that you might choose to use to dig deeper into the
music selections. We choose to use this as our music
course of study as we had completed what we were
currently doing. So this was a fun change for us. I didn't want
to spend hours watching my son cut things out so I cut them out
for him and it took me quite awhile to do that but it was easier
for him when we went to put it together. We started with the
orchestra file folder because I wanted to reintroduce the various
musical instruments. My son enjoys the arts so he took the time
to color in the cover page. (I should mention he is in the 6th grade)



The really great thing about this orchestra pak is that, in the right
hand corner, are cards with different music eras and included on those
are the seating charts for those particular time periods. Very interesting.
So we were able to choose an era and then come back to it as we changed
which era we were learning about. We could then move the orchestra
seating around to match that era. As we placed each instrument into
the pockets we would listen to a small solo for that particular instrument
from You tube. We both enjoyed this activity. It was a very relaxing afternoon. 



This is our lap Book it is still a work in progress. The keys
on either side of the flap are for learning new vocabulary. You are
given the definitions to cut out and paste under the keys or if
you wish your child could write them. We pasted them in .
It was one of the first things we did. The vocabulary was very helpful
while we were learning about composers we often referred back to it. 

The bottom blue pieces are called the Pieces with a Purpose. These are
used to explore the reasons why a composer might have decided to compose
a piece of work such as for money , for religious purposes and so on. 



There are 42 composers to learn about in this lap book. You can
color code the composers to match their time period . We did
not do that but would have liked to. Each one of these pictures
of the Musician opens to a mini book about them. As you are studying
you can jot down a few important facts about that particular composer.
You can fill in the birth, death, county, time period , compositions and
interesting facts that you might want to add. Some of the composers
included are Beethoven, Vivaldi, Ravel, Haydn, Mozart, Prokofiev,
Couperin, Bach, Wagner, Schubert , Handel and many more.


The periods of music activity is pictured below on the music stand. It's a mini book
with information inside on the different periods of music. It's almost like
a mini text book of information. Not shown is a time line of the different composers.
You are given pictures of the composers to glue onto the timeline. We have not
gotten to many on ours yet but are working through the composers.
There are also composers cards also not shown that can be used to
play different games to practice what you have learned . We haven't gotten
to play any of these yet we are still working on our composers and listening
to the music pieces that accompany the study. 

Below the Periods of music is a pocket to hold our
music appreciation papers. This was something that was my favorite
part of the lap book. It was interesting to see what my son thought of these
beautiful pieces of work. There also is a place for the title of the piece, composer,
time period and other interesting facts you might learn about that particular piece
of music. Along with this you are given some mp3's to listen to. (below is
my son listening to his music) You can also add some additional music from
your local library or from your personal library .We also used these
Introduction of the Classics
if you are interested in doing the study. 
A few more details...
If you decide to purchase, the downloadable version comes in a rather
large file. The file is organized by folders and is really easy to figure out.
The directions are clear and concise. If you have a slower connection you
might want to purchase the Cd's they may load better from your home
computer. I highly recommend
Home School in the Woods
. We have
always enjoyed their products.
Warm Blessings,
Nikki