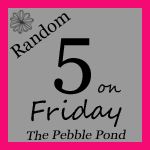 1. Went for our first walk at the lake. In this picture the kids are taking in the
view of the water with dad. We had a fun time walking , looking for signs of
Spring and Skipping Rocks. We usually take one walk a week with the family
if we have time.
2. On our walk we saw our first monarch butterfly. I so miss seeing
them on our butterfly bush where we used to live. Maybe we
will have to plant a butterfly bush here. I have been secretly wanting to
do a special butterfly activity with the kids for years. Maybe this will
be the one where I follow through with it.
3. My girls this week were on a sister theme. Princess took the
time to paint Sweet peas toe nails. Then Heart called Princess
and they went out shopping. For the first time I might add. We
haven't left them go running around together because of the worry
of heart being a new driver but this was the day. It's been a long
time coming and the girls were so excited
4. This is a picture of me. I don't normally like to share me.
This week I had a terrible stomach virus along with the family.
It has been nasty. It feels like it is hovering over our house.
Yuck. But I seem to be feeling a bit better today. I don't want
to say that to loud since it keeps coming back at me.
5. I'm working on a weight loss plan. It has been a long time coming
so this can be my before photo. I wanted to feel it out a little
before I made a big announcement but perhaps I will be more
accountable by sharing this . So pray for me I'll need all the strength
I can get.
Warm Blessings,
Nikki