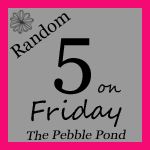 1. Memorial day weekend wasn't what I had hoped it would be. No one
made plans and at the last minute we decided to have a picnic here at our
house. Since it was last minute it ended up being my parents and us. It also
was to chilly to sit out on the porch. Every year we typically go to Caledonia
state park but since we would have to travel through Gettysburg and they were
having a big celebration, we thought it best to stay this direction. Not the big
bang start I wanted to the beginning of Summer.



2. Even through the temps were rather chilly we did manage to go to the
playground for our first session for the year. The kids had a great time.
Spirit had on his funny sweatshirt. The other kids giggled and chased him
around saying he was a monster. Soon they were playing a good guys
bad guys game. I'm not sure of the rules but there were about 25 kids playing.

3. Later in the week it got really hot so hot we got out our air conditioner.
Its supposed to be cool next week. Go figure.


4. We have an art show to night for Superboy This is his first and he
is so excited to be able to share his art with everyone. 


5. This is my spring bulletin board at church. I finally got a picture of
it . Now I have to think of a summer one.


Warm Blessings,

Nikki