I just love hands on Learning. I think that Homeschool and Hands on are
the same word in our house. We were so happy to review
Supercharged Science
.
We were given access to the online version of the
e-Science
program which includes hundreds of experiments and activities. Each month
you will be given access to another unit of study with another 60-80
experiments! The price for the k-8 program is $37. per month and the
9-12 program is $57. per month. I was able to take a peek at the 9-12.
This could also be used with advanced 6-8 graders. With the high school
option you will have access to the k-8 program and extended information
for the 9-12 graders.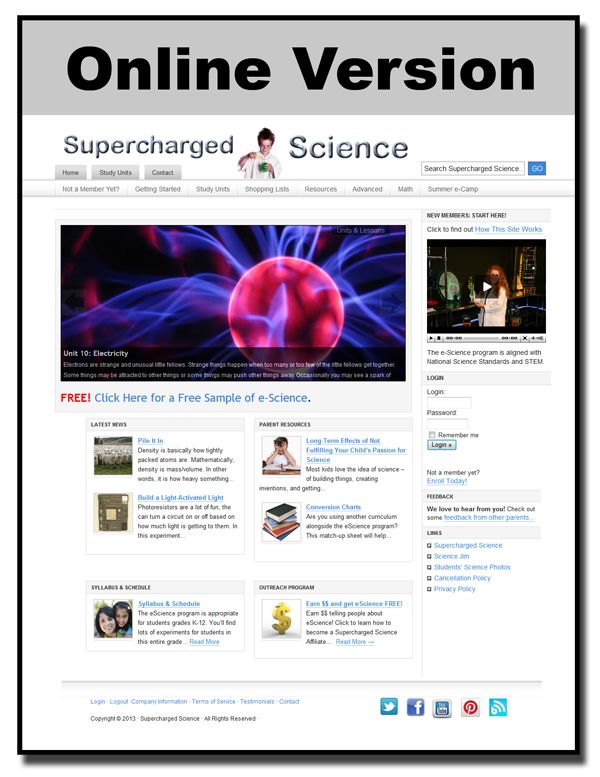 When I open my
Supercharged Science
account I suddenly have
20 units of study. Some of the units that catch my
eye are energy, motion, sound, chemistry , astrophysics, biology
and life Science. There are many others too. Aurora Lipper is the
owner of Supercharged Science and she is always working to improve
the site and is available for help anytime you need her. At first I was a little
overwhelmed with all the Science information available to me. There is so
much but the site is set up so that is it very easy to use. You are walked
through an easy to follow getting started video and are sent to some
experiments that you can do right away with your children.

I love Auroras philosophy of getting the kids first interested in Science
and then take them to the videos and reading material after they begin
asking questions. This is the best way to learn when your child's interest
is peeked. If you are already doing a science curriculum then don't worry
about it you can add
Supercharged Science
to enhance your child's learning.
You will find a detailed chart of the units that match up with you current
curriculum and Supercharge Science. However Supercharged Science can
work as a stand alone curriculum . Another bonus of the site is nice neat
shopping lists of supplies. This makes it easy to prepare for the activities
that your children would like to complete.
My son and I after some deliberation ... Seriously he knew right away what
he wanted to do. He has been all Robotics all year long. I had not idea
in all honestly where to start. We had bought him awhile back an electric
board kit and he created radios and did other activities with the kit on his own.
We decided to dig into Unit 10 Electricity Circuits and Robots. Since
he had experience with Circuits we did a little reviewing with it. Each
lesson comes with a video to view, some reading material and loads
of experiments.
We did this simple experiment on static electricity. We were at
grandpas and the kids found that whenever he touched anything he shocked
the kids so off went their shoes to try to shock grandpa. We later
came home to
Supercharged Science
to find out why. We had a great
discussion about it and it was something that I could talk about with all
of the ages and then dig deeper with the little ones. That's why I love
this program so much. It is easily modified for any level.
It wasn't long after the Static electricity day that we were ready to dig in. 
We took a quick trip to radio shack one evening and soon had the tools
to create robots. I have to tell you that his daddy really got into it too and
he is now going to try creating some sort of vibrating airplane. He went to
the dollar store and bought one to hook his battery or I should say batteries.
I promise to show photos when he finishes it. He always goes big so it
should be interesting. 

In the Robotics lesson 2 Unit 10 on Electricity my son was able to choose
from up to 11 different experiments. He chose the Jiggle bot pictured with
him below. This was a simple experiment that didn't take much time at all to
complete. I did take a video of it but decided it wouldn't be as fun for you if you
saw the result so I'm not going to show you. You can probably guess though
that the Jiggle bot jiggles around but you just need to see it. My son was
pleased but the best was to come. These are his words by the way. 
Next he decided he wanted to try the Superfast bug bot. Of course
superfast was not the reason he wanted to try this one. (note sarcasm here)
Here he is below working on his bug bot. (Don't ask about the wardrobe
there I have no answer) Genius at work. 

This was his end result. This project is designated for a 9-12 grader
specifically probably because of the complexity and the use of the
soldering iron. We found the directions in the video very easy to follow.
We watched it one time through. The second time around we stopped it
after each step until we were finished. And folks this thing goes superfast.
It also backs up in the opposite direction when it runs into
something. This was a great joy for the boy.

Also available with this particular lesson was a download of a 100 page
text book to use as a reference. (for 9-12 graders) We downloaded the
book and were impressed with its context. We will be working more
in the coming weeks and begin creating our Science Notebook to go
along with all that he has learned so far.
Over all we had a great time with
Supercharged Science
and my son
is already working on his next shopping list. We are thinking a water bot
might be a lot of fun to put in the pool.
Warm Blessings,
Nikki