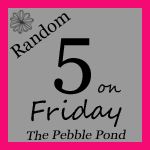 Today is Random 5 hosted by

Pebble and A Pond

.
The idea behind it is that you post 5 random things about
you or about your week. This is so much fun so please join in.


1. April 24 is my Dads Birthday, My Grandpas Birthday and my
uncle Ricks Birthday. My Grandpa passed several years ago but
we still remember him like he was here yesterday. This picture is
of my daughter Heart hugging her great grandpa. She was
born in August and Ironically shares her birthday as well. With Her Great
grandmother ,who Heart was named after, and her uncle Rich.
Happy Birthday to the three Best Guys!!!
We love and Miss you Grandpa.



2. This is a photo of my Honey and our Grandbaby.
I came upon this photo today when I was digging around.
There's just something about a man holding a baby.
I don't know what it is if you figure it out let me know.
I might need to go hug him now...
3. The above photo was taken in my mom's kitchen. She
collects roosters. I don' t know if you can see them. I have
apples in my kitchen. Do you have a themed kitchen or room.
Our bathroom is lighthouses and our living room is county homes.
I have more themes than I thought. Interesting.





4. This week Spirit and I did a fun Experiment. You have
probably seen it done before. It's the old put cut celery in food
coloring experiment. I was able to find a really leafy piece in the
middle of the celery bunch. This is day 2 and his leaves are
turning blue. You probably can't see it well here but we were all
excited. We were learning about how plants drink water and
sent it through all parts of the plant. I can see us trying some other
plants and the boys want red Celery.









5. Fun on my Blog- If you haven't noticed it all over my blog I am
helping out to try to launch the best parenting book I have read in awhile.
The launch week Begins on Monday and if you order that week you can
receive $400 dollars in parenting goodies just by scanning your receipt.
Learn all About the Giveaways and Launch week.

I've been also blogging all week about being a parent if you'd like to
too peek at any those articles.
Monday April 22-

Birth Stories


Tuesday- April 23-

My top 5 Favorite Children's Products


Wednesday April 24-

Favorite Family Past Time


Thursday April 25-

Parenting Struggle - Dyslexia


Friday April 26 - 5 Things I learned as a Parent

You are welcome to link up to any of then some will soon expire
or you can join in next week .
Monday April 29- Chores through the Ages
Tuesday April 30- Story time What are your favorite picture books?
Wednesday May 1- Saving Memories
Thursday May 2- Character Training
Friday May 3 -Praying over your Children


You also don't want to miss the GIVEAWAY!!! That's Going on right
now on my blog. You can be one of 5 winners and right now I honestly
only have four entries. So please click and enter your chance are pretty
good. Let me know in comments which you'd like to receive
and I'll try to accommodate but can't promise anything.




One more thing going on if you didn't get a chance too.
My little one on facebook is entered in The Cutest kid contest.
If you feel lead in your heart please vote for her. You might
have to like the jewelry store she is entering with but after
that you only click vote. You can always unlike it when your done.

Please Vote :)





Warm Blessings,

Nikki