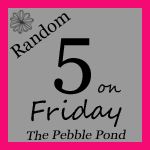 The idea behind it is that you post 5 random things about
you or about your week. This is so easy for me to do. I could probably
add a lot more but here are my 5. Enjoy your weekend.
1. This week my oldest daughter decided that we should enter
our little Sweet Pea in a cutest kid contest with our local Jewelry
store. The prize is a necklace which we decided would be saved
and given to Sweet Pea at a later time if she won. We have until
May 11 to get our votes in and new people are loading photos daily.
We would love if you would go and vote for us. You must have a
You will need to like the page to choose your entry. We have been
having a good time with it as a family and that is all that really matters.
If you voted Thanks for your Vote.



2. This is a photo of my oldest daughter. If you want to know what she
looked like when she was little look at the picture of her sister above.
They look so much alike it is startling. When I look at pictures of her when
she was little I can hardly believe my eyes. . Everyone says that all of my
daughters look like me. That makes me smile as much as the girls dislike
hearing they are like their mom. I heard the same words when I was little
that I looked like my mom.
3. Another photo of my mom and dads dog. This week Princess and Lily
went to their last dog training class. Lily received her certificate and some
special doggie treats because she was the highest in the class. Good Job
Lily and Princess. 


4. I participate with Good Morning Girls Daily Soap
and Bible study. This is this morning Study Application.
I thought I'd share it today with my Random 5.


There is no doubt about it that doing the right things isn't always the
easy way. The road can sometimes be very difficult and sometimes painful to
the heart. It isn't easy to stand up for what you believe in. About 18 years
ago I worked in a childcare center. I became fast friends with the teacher and
I was her aid . I soon saw things that were not quite right. I had to do something
about it. I couldn't sit by and watch children be harmed. It was a difficult
thing to stop. I'd try to intervene but it often happened so fast that I
couldn't stop it. She had a huge influence within the company and I was
looked down on for many weeks. We were in two separate buildings so
if I needed to copy something I had to drive to the main building and
then endure the evil stares. It was a hard thing to do and I had to go
to a hearing to announce to all what I had seen. Once I stood up and
told what I had witnessed many peoples minds changed. Some still
decided to pretend it wasn't real. A parent of one of the children actually
came to testify on her behalf but when I told what was done to that child
the parent soon changed his mind. This situation reminds me just what
Jesus is talking about here. I could stand there and tell the truth
but not everyone was ready to hear it. Some easily heard my
words and knew but some struggled with the truth and believed
the lie. It can be a hard thing to watch. When the entire situation was
over I had planned to leave the center I so loved but was asked to stay
on for a little time for the children since they had been through so much.
I stayed till the end of that year and let me tell you it was a hard one
but I stayed for the children. We do these tough things in the name
of God and for what is Right. It may be hard but it is the only path to take.



5. This week the United States has gone through a lot of trials.
It has been hard to watch on the news the turmoil of our world.
My heart and prayers go out to all those are who struggling today.
Maybe it's a small problem and maybe it's a big one but know
that all are acknowledged by God. This world needs healing and
only One can do that Jesus Christ. Prayers to all those injured in the
bombings and for those who think that bombing, fighting and killing
are the answers to issues of the world. Take the difficult road and
do the right thing.
photo taken by Heart At High Rock.
Warm Blessings,
Nikki