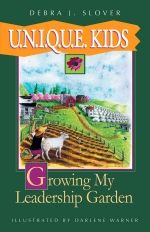 Using a Classic Fable style Growing My Leadership Garden is a fun story
about growing a garden of good seeds and ridding yourself of the "bad weeds"
Bad weeds being the things that harm a child's self esteem or their negative
qualities. Children begin to look at those things and begin pulling those weeds.
U.N.I.Q.U.E kids is an acronym for:
Understanding
Nurturing
Inventive
Quality
Unstoppable
Expression
Debra Slover takes your child through each Character trait using a little lamb
by the name of Hugh. Hugh has been raised in a judgmental environment.
His self esteem is lacking. He comes to Leadership Farm and learns a
more loving way by the farmers and animals that live there.
Our Thoughts:
My children enjoyed listening to the MP3 Audio of the book. They were able to
follow along with the reader and would here a bell when it was time to turn the
page. Great for my beginner reader. The character Hugh has an endearing quality
and children can relate to his childlike mentality. After the MP3 we were able
to have a long discussion about Hugh and his struggles. We then discussed ways
that we could relate to his life and what we could possibly do to make the
changes in our own lives. My young son who is 7 and I only did discussion
his older brother enjoyed using the journal. I did have trouble finding the
middle ground with these books. My 7 year old almost seemed a little to
young to understand some of the deeper meanings to the story. I had to
explain them to him. Then my older child seemed just right for the journal
but the story seems a little immature for him. I think the book and journal
would work a lot better with a more middle age possibly 9. I may do this
one again when my 7 year old is a little more mature.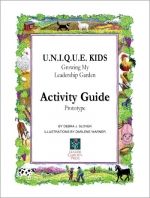 We received our activity guide and journal as a pdf. I printed out
the journal for our use and later put it into a three ring binder. The activity
guide can be used in your homeschool as languages, science, health,
social science and math. Below is an example of our leadership journal.
There are guides and diagrams your child can fill in and journal pages
for him or her to share their thoughts. (Good writing practice snuck in there)
Most of the activities are within the text of the book or journal pages.
However, The guide did suggested planting your own seeds. The younger children
really enjoyed doing this part of the activity. We planted some Sunflowers
and other things in a mini garden that I gave just to them by our house.
No weeds here.
I also was able to review the Unique Growing the Leader Within for
adults. This book is very similar to the children's version, with the same
principles behind it and the same acronym are used. We as adults have a
responsibility of leadership with our children and communities. This often goes
into other parts of our lives. We are shaping people as we go and are the guide
to our children's gardens. Along with the reading material for adults came
a Leadership guidebook. The Leadership guidebook was fun to do when
my children were doing their books. There are lessons inside for each chapter
and some journaling and workbook pages for you to work through. I really
think my Middle schooler and High schoolers would be able to use this
particular guidebook easily.

Leadership Garden
became a whole family experience.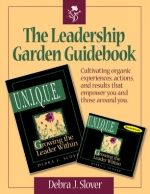 Links to follow:
-Leadership Garden

Website
-Leadership Garden

Facebook

page
-Leadership Garden

Twitter



Warm Blessings,
Nikki