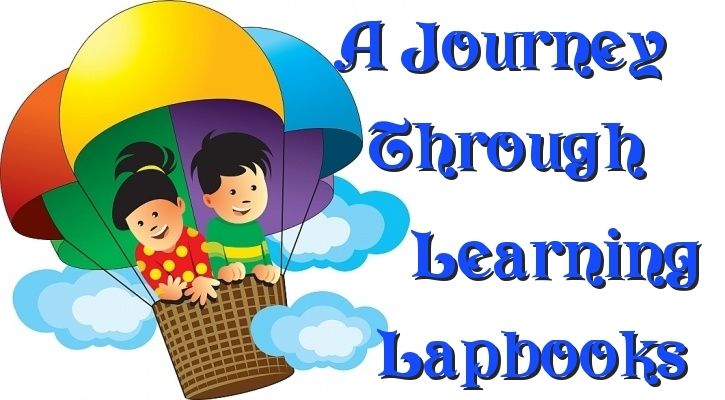 I was given for review from the Schoolhouse Review Crew a
A Journey Through Learning
. Stop by the
Schoolhouse Review Crew
Website to view more Reviews on
A Journey Through Learning's
lapbooks.
I was so lucky to review
four
of their lapbooks. Our family was able to
complete almost 2 during our review period. The others we will be saving
for a later time and I will post those when they are compete. Below is a list
of the lapbooks, their links and the Grades/Ages the books can be presented.
Knights and Castles
Grades 2-7 -$13.00 download,
$14.00 cd, and $21.00 print
Earth Science
Grades 1-4- $13. download, $21.00 print
Letters, Numbers, and Shapes
- Early learner (3,Prek, K)
$13.00 download, $14.00 Cd, $21.00 print and
$29.00 for preassembled version
Astronomy and Space
Grades 2-7- $13.00 Download,
$14.00 Cd, and $21.00 print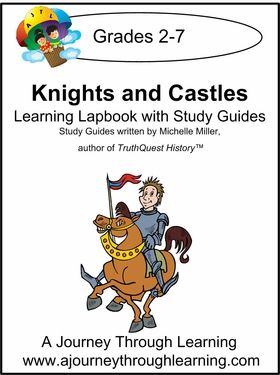 Knights and Castles
is written from a Christian perspective. The
author is from Truth Quest History, Michelle Miller. The lapbook
and study guide takes you from the fall of Rome to the Middle Ages.
That fun time of Knights, Castles, Kings and Queens. Journey through
learning gives you easy directions for completing your lapbook. You
are guided step by step through the process of how to fold your file folder.
Each task is placed with a reading guide and where to place your foldable
onto your lapbook. In this particular lapbook you will learn how to become
a knight, learning about weapons, armor, hierarchy , how they dress, housing and
Christianity for this time period. We are saving this one for next year. This is
a topic I have on our schedule for 2nd grade and will fit in nicely with our work.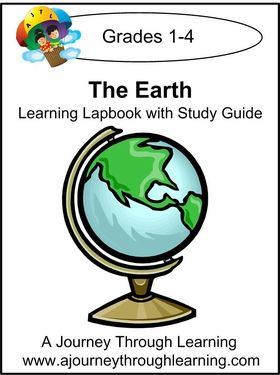 The next lapbook
The Earth
we created as a review of a lesson we had
previously studied this year. It made a nice little review and we found
a few things we hadn't included in our lessons. My son who completed this
lapbook is in the 1st grade. We limited his writing to a few words, or he
dictated things to me or drew a picture of what he thought the meaning
of the vocabulary meant. This is his cover page.
To the right you will see a little mini page about the Earth. (What planet do you live on?
Where is the Earth located , and What is a Geologist?) Below that you will find a mini
book of the layers of the earth. Underneath the world he labeled the parts of the interior.
The middle you see various kinds of Rock found on the earth, How the Earth moves,
its seasons and the earths four spheres. To the left we have a landforms mini book. He
dictated the 7 continents to me, which we learned in a song at the beginning of the year
and then drew pictures of the physical features. Below that is a mini
book about the mountains.
Here he is working hard on his book. I tried to capture a picture of him since his
tongue is usually out in concentration. Here he is coloring the different
atmospheres. He was able to cut out the words this time and paste them onto the
paper in order of layers closet to the Earth to the farthest away.
This mini book below was another that he really enjoyed. He liked
the cut the words out and paste more than writing. Since this was
a review he was able to easily paste in the answers. I was so proud
he remembered.
Below is the second folder of fun. We learned how the Mountains are formed
there on the right and the Ocean zones. To the middle is our Atmosphere page
he was working on above and below that the water cycle.
To the right of that you will find a pocket of terms about the Ocean floor
and under it is a volcano for him to share all that he learned in this unit.
What I liked most about this lapbook was the simplicity of it. I loved that
each mini book or activity was accompanied by a reading guide. You have
the ability to add in more sources if you like but since we used the lapbook
as a review the reading pages worked perfectly. The reading was
simple in that he was able to read some of it out loud to me. Reading practice
at this age is nice to slip in here and there without them realizing it's reading.
I also do like the color pages. It makes the lapbook more pleasing to the child.
However at this age level I thought there should have been less pages
already colored for them so that they could add some personality to the
lapbook. It became a little more costly using the color ink. Our
color ink is more expensive and I tend to stick with black and white but this
is a personal issue. You may really like the color page. I know if it was a time
restraint for someone then the color wouldn't be an issue to you.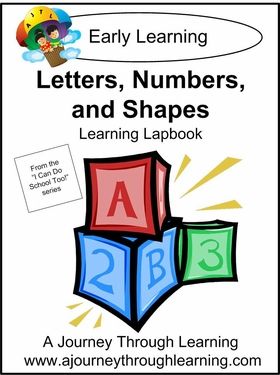 The next lapbook we tried was
Letters, Numbers and Shapes
.
We did not complete this lapbook in its entirety. Some of it
we are saving for a later time as her ability grows. I used this
with my 3 year old daughter. You also should know that we
did not put this lapbook together as per the directions with
Journey through Learning. When I went to get file folders out
my daughter saw these pink folders which were pre -put together for
other lapbooks we do. I put a few together before school starts so
we have them if we want to make our own lapbooks. So I allowed
her to have her Pink folder. The girl just loves pink. This is her cover page.
She did really well with the coloring and took a day or two to do it.
I can see she is going to be a take your time sort of gal.
The shape part of the lapbook is the portion we did together. She has
been working all year on naming her colors and shapes so this was perfect.
To the right is a mini book that says my favorite shape. She drew a circle inside
as this is the easiest shape for her to draw. Triangles and squares prove to be
More tricky. In the middle is the rectangle fire truck. Inside of that she practiced
making rectangles. For the gumball machine we practiced together making circle
gumballs and then the mini book to the bottom right she could look through,
color and find the shapes. We are still practicing these activity so we didn't
color the shape yet. I wanted to use the lapbook as a review book. This little
mini book is one I'd like to save for a later time to color. I want to use it over
and over as a find the shape book until she is ready to color them in.
To the right is the square mini book. She colored the squares different colors.
She enjoyed finding the right color for each square. For the Ice cream we colored
the triangle brown. She likes to color so she enjoyed this activity.
The next part of our lapbook is the numbers section. She isn't quite
Ready for this one. The counting items pocket has colorful pictures
in to count. She can do that and enjoys it. The numbers pocket
has the number cards inside. You can lay out the counting items and
lay your number card on top of the correctly counted number. She isn't
ready for this activity yet . Next you see I can write my numbers. This
is a mini book of number words. I wish there would have been actual
number writing included in the lapbook so we could have wrote those
as we learned them as well. Perhaps I'll have her write over the number
cards with marker when the time comes. Below that is a I can draw
animals book. She is not ready for this yet either but she has begun
to draw simple flowers and tries to draw animals. Again we will
save these activities for when she is ready for them.
Last but not least is the ABC's section. This we will use next year as
we learn our ABC's. I love this by the way. Your child writes the
Letter and then finds a picture to glue inside of the fold
beginning with that letter sound. This is going to make a fun book
for my daughters reading area. Something we can pull out and
look at together over and over.
More examples below. Oh and by the way when she is done we plan to
add some pink glitter to the folder. Just to make it all hers. What a fun
memory this will make when she gets older.
What I really liked about this was that there were some additional guides
in the back with book suggestions, finger plays and alternate activities for shapes
and activities for each letter of the alphabet. I'll be hanging on to
these for future reference.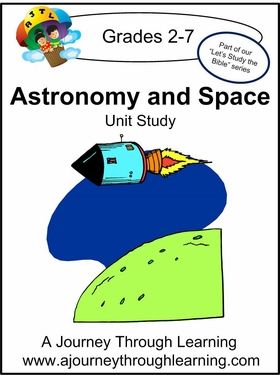 There is also an
Astronomy and Space
lapbook that I was
given to review. This one is for 2nd-6th grade. I plan to use this one
later this year with my 6th grader. Astronomy is our last Science lesson
before our summer break. We will be learning all about our solar system,
the sun, all of the planets, galaxies, astronauts, telescopes, the moon, rockets
etc... This is going to be a fun one to do. The lapbook is set up just like the Earth
book with a reading study guide and activity mini book for your lapbook. You
can again use other books and materials to add to your study. Each activity is
to take you one day. So that it will take you about a month to complete one
lapbook. If you need toyou can go faster or slower depending on your child's pace.
What is different about this lapbook it that you also will need a 3 ring binder.
After each reading section your child can use Nick notes or an outline for note
taking practice. I really love this . There is also a narration page that can be
included. You choose which form works best and to your child's level. Maybe
even mix it up a little. You can then keep your study guides in the notebook
and your child's notes. You will be able to include the book log and the
report as well. Lots of fun learning here. I can't wait to do this one too.
We love lapbooking so as you can imagine A Journey through learning is
a keeper for our family.
Warm Blessings,
Nikki