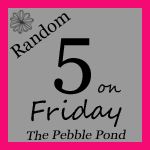 On Friday's I like to Link up with The Pebble and the Pond with
5 Random things from my life. If you blog try joining in on the fun.


1. This week I was a terrible blogger and this is the only post I have gotten
up so far but I do have some posts in the works. Behind the Scene action you
might say. I also admit to spending way to much time on facebook chatting with
a new friend but she well worth my time.



2. On Sunday in Church I changed the nursery bulletin board .
It is time to take down the snowballs. We made a really neat flower
board but of course I forgot photos. So I'll leave you with this one
for now. Maybe next week I'll remember the flowers. I'm excited that
this week I'll have a new volunteer helping me. I'm hoping all goes well
and if we get along well perhaps she will be the new hire. (Maybe)
3. My son has been taking an art class. His favorite topic at a local arts building.
His very first project was this rain stick. I love his alligator. Can't wait to see
what he comes up with next.

PS I have no idea what in the world he is wearing.

4. We have been doing a lot of Sciencey type stuff this week.
All that good hands on learning going on. Good post coming on this very topic.
We did some bean investigation, some root planting, some sunflower
planting , and some electric experiments. I know those are all so related
right????


5. Spring has finally sprung here. The temperature has gone up a good bit.
We turned off our heat and are enjoying sunnier days. I love opening up the
house even if the neighbors are enjoying the view of the inside of our house. 
Ha haa only I could possibly find away to put snowballs and spring blossoms on
the same post. Have a great day.
Warm Blessings,
Nikki