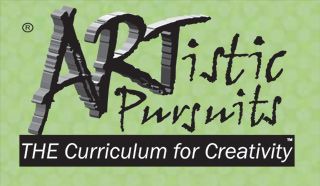 Artistic Pursuits
is an engaging Art curriculum for children ages 3 yrs.
all the way to high school level. The book I'm reviewing it for children
in the middle school grades 6-8 or about 11 years of age and up.
The Art book we were given to review is called
Middle School 6-8 Book One The Elements of Art and Composition
.
This is the Newly expanded Edition. If you go to the link you will
be able to view examples from the book and the table of contents.
The price of this product is $47. 95. The book comes comb-bound,
with 62 lessons and 92 pages in full colored text. The lessons are
written toward the student and no teacher prep is needed other than
purchasing and gathering supplies needed for the lessons. On the
very first few page of your book you'll find a list of supplies you
will need to purchase. I loved this part about the book. I like when
a curriculum prepares you in advance for what is needed. You can
also purchase art kids from the vendor and all of your supplies will come
right to your door. Next you come to the getting started page. It is
suggested to have art classes two times a week for about an hour each
time. Lasting 32 weeks or a full school year.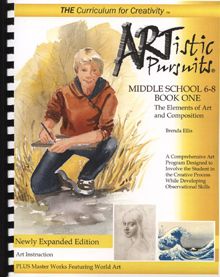 This book is about the elements of art, space, line, shape, form,
and value. These are the basics of drawing skills.
Each lesson starts out with a description and examples of the element
of art you will be working on. Your child will learn about various pieces of art
from master artists and you will be able to view those works. They will
learn about different cultures and you can look up the area on a map if you like.
Then you have a challenge drawing project to try. Your child will also be given
direction on how to use the art tools that you have purchased.
My thoughts on Artistic Pursuits:

First I should tell you I have a background in art. In high school I took all
advanced art classes. Now I dabble in drawing and pen and ink sketches,
which is what is in this book. I really like how the lessons are set up and that
children can work through the book on their own. This could be the basis of
some nice sketchbook work that a child might need if they were attending
an art school later in life. There are a few basics that seemed to be missing
but I think that you sometimes have to see someone else do some of the
techniques to really understand how it is done. It would be great if
Artistic Pursuits could add some video. I also have not viewed the books
before this one so perhaps the things I was thinking of might be in those.
I really loved that my son was able to draw what he liked for most of the
lessons. He is very creative and I don't care for those boxed art curriculums
that might squash that desire to be himself and to create his own work.
He is enjoying the book so we will continue with it.
This drawing of the elephant and man if from lesson 2.
Lesson one he had to write his name big so that it fit nicely on the paper.
This assignment he had to draw the elephant on a piece of paper vertically
and then this one horizontally to help him see that he needed to use his space
wisely. The vertical drawing didn't fit quite right on his paper. It was difficult
for him to get it all on the page. So choosing the right size of paper for the type
of composition you are drawing is important or you need to reduce the vision
of your drawing making your sketches smaller.
This was a drawing from lesson 4. He had to draw a quick sketch of
anything he choose and then clean it up using a darker 4B pencil.
This is his drawing of a cardinal.
Over all I would purchase the books again for him. They help a child develop
their skills. I may even fiddle around with some of the lessons myself.
Warm Blessings,
Nikki
Disclaimer: I received a free copy of this product through the
Schoolhouse Review Crew in exchange for my honest review. I was
not required to write a positive review nor was I compensated in any
other way. All opinions I have expressed are my own or those of my family.
I am disclosing this in accordance with the FTC Regulations