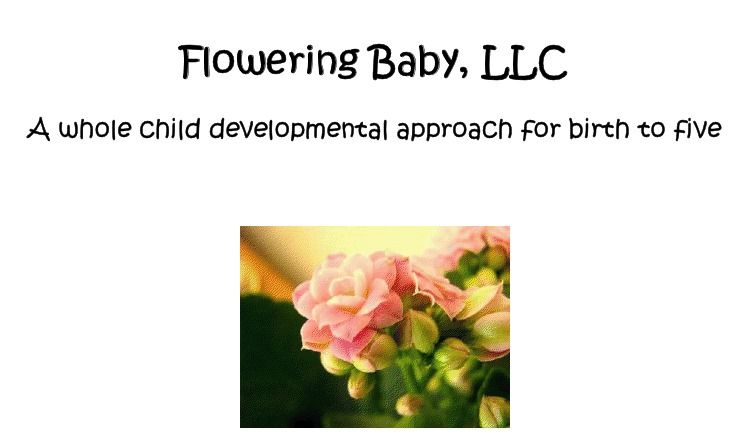 ABOUT:
fun. Flowering baby is for children Birth to age 5. You will work on many skills such as
cognitive language, gross motor and fine motor, social, emotional and self- help
competencies. Flowering baby can be downloaded right to your computer or
you can order it on CD. You will spend about 20-45 minutes per day on lessons
with your child. Very easy to do especially for us busy homeschool parents. Most
of the time my daughter loved it so much that I had to find more for her to do.
There are 5 levels of flowering baby.
Birth to One
- With this level you will find one activity, a book and a song
The price of Birth to One is $30 . You will find examples at the link provided.
One to Two
- This age range is the time of moving babies. It is a time
of exploration . Young ones will explore with play dough using various
other tactile experiences. One to Two Costs $30. as well.
Two to three
- Two to three year olds are becoming ready to sing songs,
count and begin learning the ABC's. Children will explore through tactile experiences
enjoy music and many stories. The cost of this level is $30.
Three to Four
- This is the level my daughter is in at this time. Three to four
changes from the 0-3 levels. Here your child begins working on writing skills,
language, music, social and emotional skills. He or she will also begin
enjoying theme based activities. The price of the Skills series
and the Themes is $38.
Four to Five
- four to five level builds upon the three to four level. At first glance
It looks as though some themes are repeated but now you are able to dig deeper
into the topics because you childs age level has developed. You will begin
pre-Kindergarten skills. The cost of the skills and themes are $38.
If you wanted to purchase the entire 0-5 year lessons you can for $132 on
download or CD. I highly recommend doing the all at once if you have very
young children.

For a 10% discount Flowering Baby has offered a discount code.
Use Blog10 when ordering.

Our Experiences with Flowering Baby Three to Four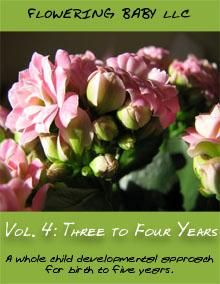 In flowering baby 3 to 4 you are given two ebooks. One is separated into various
skills and the other has Theme suggestions. I have worked in early childcare for
about 18 years myself. I was pleasantly surprised and happy with the skills
associated with this curriculum. Flowering baby can be used as is or it can
be a guide to explore using some of your own ideas but working toward the
skill and level. Skills begin with the month of January but you can start
where ever you are with the curriculum it doesn't have to start in January.
You can start at any time.
Skills are simple tasks that take only a few minutes to work on.
My little sweet pea is just beginning to sing her ABC's she is so cute.
Another skill we worked on was some pre-writing practices. Here
I taught my little one to draw some simple circles. As you can see
She is all smiles.
Flowering baby also encourages sequencing of events and other reasoning skills.
I had these cards from a previous Sunday school curriculum. There are several
in the set but this snowman one was her favorite. I also have a sequencing puzzle
so both worked along with this skill. There are times that you can pull other resources
that you may already have at home to include in your studies.
You will also work on math skills counting various things in your home or
just counting out loud. Here I had an old cocoa game and we used blue
"marshmallows" since our color of the week was blue.
I also had a color snowman game and we matched scarves and hats to
the buttons on our snowmen. There are various similar games around the
web for color matching. Matching , sorting and color recognition
are all apart of the 3-4 level.
Flowering baby incorporates music and gives you various suggestions as
well as a book list of stories to share with your child. I had shared the
Billy goats Gruff with my Sweet Pea. We used plastic goats to pretend
act out the story and worked on the new skill of narration. Charlotte
Mason early. I love that.



Each Month the children have the choice of two themes. The suggested Or
you can choose one from the list. This one was from the Artic theme which
was suggested for January.

We were to read many books on the Artic, talk about what to wear,
and act like the animals. We named each of them and then I found these coloring
pages in the photo below so that we could work some more on the names of
the animals. We posted those on our refrigerator to point out and
name again and again.

You can see I made my sweet pea into an Eskimo putting cotton around
her head. We read "Momma do you love me" and then I added in the
Sweet pea Eskimo. We did this alongside flowering baby .I often found
myself coming up with more ideas that went with the curriculum.

The blue painted paper in the background of her coloring pages
was part of her blue color day.
(*Note the animal coloring and Eskimo was beyond the Flowering
baby activity.)
Our Second theme for January was Dinosaurs. We were in luck because
MGM came to our local area with a fun museum tour. We read many books
on dinosaurs. Put dinosaurs in play dough to enforce that dinosaurs came from
eggs and we also created this dinosaur craft which I found online to go alone
with the theme stories and activities.
My thoughts on Flowering Baby...

My little one and I really enjoyed flowering baby. I liked the outline
it provided for me in creating more ideas as I went. I loved the skills
as it is in line with all that I was taught as an early ed worker.
Flowering baby is simple to use and doesn't take up to much of our time
My little one still feels special and a part of our homeschool family.
I often found that I ran out of time for my little one, in planning and in
actually doing. Flowering baby has freed me up planning wise and
I am actively participating with my little sweety.
As a little added bonus I created planning pages to go with
flowering baby 3 to 4 you can view it in my google docs sheet
and download if you are interested
Planning pages
Warm Blessings
Nikki,

Disclaimer: I received a free copy of this product through the Schoolhouse Review Crew
in exchange for my honest review. I was not required to write a positive review,
nor was I compensated in any other way. All opinions expressed are mine
or those of my family. I am disclosing this in accordance with FTC Regulation