About Apologia:
Apologia
is Science based on a biblical creation world view.
Apologia
offers curriculum to home educators. They offer apologetics, inspirational books,
homeschool tools, retreats for homeschool moms and mission opportunities.
I was given the opportunity to review
Exploring Creation with Zoology 3: Land Creatures of the Sixth Day
and the
Junior Zoology 3 Notebooking Journal
from the
Schoolhouse Crew
.
Zoology 3 is the 5th book in the Young Explorers
series. This K-6 curriculum uses a Charlotte Mason style of learning
and gives you a beginning to the world of land animals.
Ease for the Teacher
The first page of the text book begins with contact information from Apologia so
that you can ask for help if you need it. Then you are given a brief
tour as to how the book is set up. You are also given a link
to be able to obtain fun extras . There is so much you can do here that I could
have spent days and days on just one topic. There is also a guide for each chapter
telling you what supplies you will need for that particular
lesson. You can work at your own pace or follow the suggested timeline . I
was really impressed with how the information was laid out for parents/teachers.
They made lesson planning so much easier.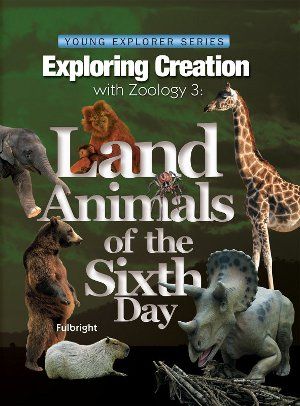 Using the Textbook
The first lesson is an introductory lesson telling us that we are going to be
going on a safari. We learn that God made the animals through the text book
and verses from the bible.
"And God said, "Let the land produce living creatures according to their
kinds: Livestock, creatures that move along the ground, and wild animals,
each according to its kind. " And it was so. God made the wild animals according
to their kinds, the livestock according to their kinds. And God saw that it was good (NIV)
We learn that God created each animal special according to their purpose on
our earth and in our lives. Then we learn about jobs that are available to our
students who love these land animals . The chapter concludes with a What
do you remember section, Map it out (more on this below), track it, notebooking
activities (more below) and an Experiment.
Experiments:
The idea behind the experiment is to teach our children about camouflage.
We learn how these animals are protected in the wild by their own adaptations,
gifts God gave them. Children are given a Science speculation sheet to fill out.
I am using apologia with my 3 year old, 1st grader and 6th grader. The
text book is for children K-6th grade and the Notebooking Jr. is for K-3.
Although for my 6th grader who isn't a big writer I felt like it would work
for him as well but I'll be interested to see the other Notebook for the older age.
I divided activities by age level and we were able to work
together as a family.
My 3 year old and my 1st grader worked on dividing our skittles into
containers by color. (The book suggest M&M's but these worked too)
My 6th grade son worked with my 1st grader in filling out the hypothesis and all of
the children tore up construction paper to create a habitat for our skittles. We then
sprinkled the skittles through the habitat. Set the timer and saw how many were
found in a minute compared to how many were not found. Great math for my
1st grader. I gave each child a turn and then we placed the date on our worksheet.
We also used notebooking pages that provided us with Charlotte Mason
narrating work, coloring pages, copy work , and mini books. A page
called Explore More listed suggested activities such as books, DVD's
and field trips. We had a wonderful start to our zoology experience.

Dinosaurs Chapter 12
Then I noticed in our local newspaper that MGM's Dinosaur exhibit
was coming to our local town. So I skipped to Chapter 12 in our
zoology book to the lessons on Dinosaurs. Each of the children
at the Dino exhibit was given a scavenger hut. The scavenger hunt
had some basic facts for the children to look locate. This was a great
start to our dinosaur lessons and created much excitement.
There were other activities available such as riding a dinosaur,
digging for fossils in a sand area with a large paint brush, Mining for rocks
and fossils and other fun things less educational but exciting all the same.
My 1st grade son enjoyed the dinosaur ride. My 6th grade son enjoyed
completing the scavenger hunt and spent some time drawing the dinosaurs.
Here is my littlest child with her scavenger hunt book. Her favorite thing at
the animated museum was the sand and searching for fossils.
Notebooking
We also used notebooking pages that provided us with Charlotte Mason sytle
such as narrating work, coloring pages, copywork , and mini books. A page
called Explore More listed suggested activities such as books, DVD's
and field trips. We had a wonderful start to our zoology experience.
With our Dinosaur lessons we began to dig more into our notebooking pages.
These are just wonderful to have and well worth it to have one for each child. In
the back of the notebook you will find color mini books and stickers for your map
it sections.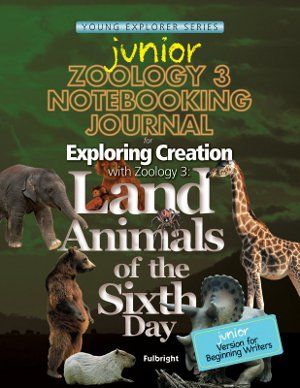 Map it
In the map it Section children are able to map where an animal lives
or lived in our world.
We pulled out the dinosaur stickers and dug out a map to place our
dinosaur on the continent where they we found. My 1st grader absolutely
loved this activity since he recently has been able to name all seven continents.
Not all the dinosaurs listed had stickers. It was suggested to
use clip art for the others. We decided to just stick for now with the dinosaurs
we had that came with the notebooking book.
My little one helped place stickers on the lower part of the map that she could
reach. Here they are showing their hard work. I actually taped this over a picture
in our dining room .We plan to leave it up as we go through our Science book
and add the other animals as we go.
The younger children enjoyed the coloring pages. I love the details of them.
This is scanned right from our notebooks.
As we read about each of the dinosaurs my sons wrote some notes in their
notebooks. This is the page of my 1st grader. He really enjoyed this activity.
For the first time in awhile we are really enjoying Science. I highly recommend
Apologia. As a parent I found it easy to use. There is a lot of extra for fun learning and
really digging into the topic. The biggest bonus is that the children loved it so much
that they didn't even realize they were learning. I hope to work through this book
and go back and purchase some of the others. I think Apologia will become a
friend when it comes to Science.
Head over to the
Crew
to read more on what others thought
of Apologia.

Disclaimer: I received a free copy of this product through the Schoolhouse Review Crew
in exchange for my honest review. I was not required to write a positive review, nor was I
compensated in any other way. All opinions expressed are mine or those of my family.
I am disclosing this in accordance with FTC Regulations
Warm Blessings,
Nikki