Well, I really didn't expect all that came our way in December
when I planned out our toddler time. That is the great thing
about home education. You can hop back on the school wagon
when you are ready. We took the entire month of December off
of toddler time for our move. We still have a lot of work here to
do and one day I hope to share photos of the house as the work
is completed. For those of you that did continue with Toddler time
I'd like to share with you the lesson plans I had in mind for that time
and for those that come by in later years to peek at it.


Concept Basket:

Week 1- Hats, mittens, match mittens, cotton ball in mittens
Week 2 - Container play- cups, paper towel tubes, plastic tubs,
superballs, bingo chips and clothes pins
Week 3- X-mas week - Baby blanket, baby doll, Tony nativity,
bottle, X-mas bows in sensory tub
Week 4- Enjoy new Christmas toys. :)


Art Activities:

Week 1- Decoate paper mitten with foam shapes
Week 2- Handprint a Christmas tree and decoate it with
Christmas stickers, glitter, puff balls etc...
Week 3- Decorate a large glitter star
Week 4- No school

Finger Plays:

We did find time for some finger plays. This was a favorite.
I have found that Sweet pea enjoys U tube. I think because
I have been able to find things that are short and spoken to her.
This morning she sang along to a praise and worship song ment
for mommy but she tried too.

And we played this. We had piles of boxes and I was exhausted.
The kids were on the bed giggling. I suggested playing gingerbread
man. It really lightened the atomosphere and helped us to move
on with the packing.
Thanks to I can teach my child for the great ideas.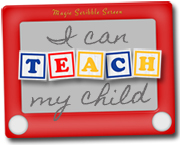 Reading Time:

Typically I allow Sweet pea to choose from our library and
a few I choose. Since most of our books were packed we stuck
to our beginner Bible.


I have noticed a change in Sweet pea this month. She has
gone through a lot with the move. She is doing very well with that and
she also had some oral surgery which turned out to be more scary for mom
than for her. Her speech is coming along nicely. The funny thing is that
she will often spout out a large word and have it in the correct tense. I
really think it's in there and with more song and stories I think she will
be jabbering easily in no time. She has also started potty training, which
absolutely makes me nuts. She is such a clean freak which is a good thing
but very very time consuming. We can't just wash our hands we have to
wash our hands, go potty, clean up potty, wash our hands, and beg to
brush our teeth. As I type this she is sweeping the kitchen floor.

As a start back to school today her and Spirit painted. She had to
wash the brush, dry the brush, wash the brush again, dry the brush again,
get a little paint, paint, dry her hands, wash her brush, get new water...
Oh my. It was funny to watch her.

Anyway glad to be back. Hope you had a Merry Christmas.

Warm blessings,

Nikki