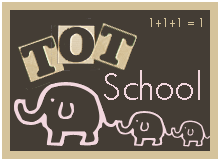 Our first week of Toddler Time went smashingly. "Sweet
Pea" Loved her Concept basket. I introduced it to her on
Monday and then it was left out for her own exploration.
This weeks basket was filled with a family theme
in mind.She had a baby doll wrapped in a blanket, 2 wash
clothes, baby bottle, and a family matching mat.
The Family matching mat was the biggest hit. She
enjoyed matching them over and over. Sometimes she just
carried the cards around in her hands. Since "Sweet peas"
speech is going rather slowly we practiced naming all the
members of the family too.
Princess played with her one day and said where
is " said child" Instead of pointing to the appropriate photo
she ran to the person. :)
I tried to show "Sweet pea" how to fold the wash clothes
but she was more interested in washing off things. They
became more like dust clothes for her. Our TV is dust
free this week.
First though she choose to pretend to wash herself. It
was funny to see how everyone got involved in her basket.
It really was a family basket. Each one of my children at
some point played with her with something from it. The
concept basket really worked beyond my expectations. Not
only did it allow her to explore different things but she
was able to interact with family members with it as well.
I don't have any photos of Reading Time. It's a little
difficult to hold her, read and take a photo. Our reading
time is broken down into 4 20 minute slots of time. We
don't always read the full 20 minutes at a time but break
it up through out the day. This week we read many of her
board books. We read a small picture book called To Many
toys and Puppy's Ball. She also enjoyed pointing out pictures
in Spirits Read aloud.

I point to objects and ask her to repeat them. Sometimes
she does the reverse.
My great Art this week was to explore shaving cream. I thought
to put it on paper by adding some glue. It makes some great puffy
paint. I thought I'd let her explore it before I added some
glue and we put it to paper. I sprayed some on the table and...
(see photo above.)
She did not like it one bit. She did enjoy wiping it up
with wet wipes and towels. She kept saying eww. So needless
To say it never got on paper.
We did however make a crown. She absolutely loved gluing
and stickers. In fact most of the kids created one. I have
a container with dividers in it and use this to display sequins,
stickers, and foam shapes. It works great. There is less over
use because I fill it as needed and "Sweet pea is thrilled with
the display. I'll have to post a photo the next time we use it.
Finger Songs We sang this week:

Family

This is the father, kind and true ( hold up fingers one by one)
This is the mother who cares for you.
This is the brother so big and tall.
This is the sister who pays with her ball.
This is the baby, pet of them all.
See the whole family , big and small.
Grandmothers Glasses

These are grandmothers glasses, (put hands around eyes
like glasses)
And this is grandmas cap (put hands together over head)
And this is the way she folds her hands (fold hands)
and puts them in her lap.

This is grandfathers glasses ( hands around eyes bigger)
and this is grandfathers cap ( make shape bigger hat)
and this is the way he folds his arms (cross arms lean back)
and sits like that.


Roll you hands

Roll your hands so slowly (roll hands)
as slowly as can be
Roll your hands so slowly,
Then fold them just like me.

Roll you hands so quickly,
As quickly as can be
Roll your hands so quickly.
Then fold them just like me.

Clap your hands so softly (clap hands)
Softly as can be
Cap you hands so softly
Then fold them just like me.

Clap you hands so loudly
Loudly as can be.
Clap you hands so loudly
Then fold them just like me.
If you are interested in how I do Toddler time/Tot school then
you can find my planning sheets Here.
Blessings
Nikki