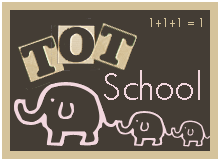 This week I filled "Sweet peas" Concept basket with her
favorite toy. (Good thing to since it was a sick week for mom)
Not picured below were two old Cell phones. Those she nabbed
right away. Every night my dear little one fell asleep holding
a different phone. I wish I had felt well enough to take a
photo of each day it happened.
As some added fun. Brother blew up some balloons and tied
them up in the hall way. This is great fun for a toddler and keeps
it safer than allowing them to hold and chew on them.
The kids kicked and hit them all the day through.
Art this week was not what I intended but it worked just fine
anyway. Sweet pea created several of these paper pizza pies.
The activity came about when we were doing pizzas with
Spirits math journal. (which you will see tomorrow) I was
surprised how much she liked making these. The girl loves glue.
Finger plays this week:

Under my Umbrella (seems fitting with the rain we keep having)

Under my Umbrella, I am dry
(Cup hand above index finger.)

When it's raining , my oh my.
(Fingers wiggle like rain coming down)

I wait until the raindrops stop
(clap hands together on the word stop)

Now no umbrella on my top!
(Just hold up index finger)


Plus many of the old favoites.


Story time this week
Peek in my Pocket
was the big
favorite. We read it over and over again. Review coming.



If you would like to learn how I plan toddler time please
stop
Here
for planning pages and the concepts behind my plans.
</


Blessings

Nikki