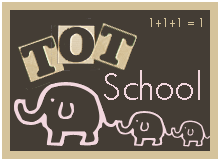 This week we had a simple Cereal week.

Sweet pea loved her concept basket this week.
It included a interactive Cheerios book
a large container of cheerios and fruit loops
A large spoon and a Small container for pouring.
This kept her busy for quite awhile. Spirit wanted
to play to and it was funny that Sweet pea poured
things better and more precise than he did.
I
I saw her sneak a few bites and it didn't matter one bit.
Art : We created cereal bracelets out of pipe cleaners.
(sorry no picture) I had to hold the pipe cleaner for her
but she was able to string on the cereal. I learned awhile
ago that she was able to do this task. She wore and ate
her art.
Books We read:

If you give a mouse a cookie by Laura Numeroff
( I was surprised she sat through this book. This is her
real first story. She typically sits through board books
and pointing at objects. Usually not long enough to actually
read the story)

I'm a little tea pot board book

Corky a story of a little dog and his ball.
(We read this several times. Its actually a beginner
reader but she enjoys the simplicity of it. She also can
say dog and ball.)

Mary had a little lamb board book

Songs and Rhymes:

I'm a little Teapot

I'm a little teapot short and stout
Here is my handle (hand on hip so arm look like
a handle)
Here is my spout (other hand out to side)
When I get all steam up hear me shout
just tip me over and pour me out (child tips to the side)
(Or in our case I tip her to the side and she giggles. )
Round and Round the Garden
Round and Round the Garden
(rub fingers around childs palm)
Like a teddy bear
one step , two steps (creep up childs arm and tickle
under chin or arm)
Tickle "Sweet Pea" there.

This is her favorite one.



If you'd like to learn how I plan for toddler time
you can go
Here
for my planning sheets.
Blessings

Nikki